This is Halloween: DIY Costumes
Besides candy, the perfect costume is essential for any successful Halloween.
However, over the years, it seems like costumes have gotten more and more expensive, especially for an outfit that you are only going to wear for one night. With Halloween falling on a Monday this year, your plans may also limit how much you're willing to spend when you realize you have to be up early the next morning. But, don't worry, there's a simple fix to this issue: DIY costumes! Whether you want something simple that you can wear to school or a unique twist on your pop culture favorites for a Halloween party, a DIY costume provides you with a ton of easy and inexpensive choices. You can even turn these ideas into couple or group costumes and don't forget your furry friends either!
HARLEY QUINN & THE JOKER
With Suicide Squad being a huge summer blockbuster, it's no surprise that Harley Quinn has become one of the most popular costumes this year. Seriously, who wouldn't want to be this butt-kicking villain with a sassy attitude to match? Sure, you could go out to a Halloween store and buy the exact costume the other 15 or so Harley Quinns are wearing at the party you're going to, but wouldn't it be better to DIY your own version of the costume and make it unique? That's what I thought. With this costume, there are some key pieces: the "Daddy's Little Monster" tee, the red and blue shorts, and the "Puddin" necklace. Tess Christine provides a simple way to pull all of these pieces together while still using items from your closet in her tutorial here. Want to go all out? Then follow Jbunzie's step-by-step cosplay instructions that'll help you get the exact look from scratch here. And what's Harley Quinn without the Joker? Turn the look into a couples costume by following the Harley and Joker makeup tutorial here.
STRANGER THINGS
Like Harley Quinn, the cast of the Netflix series Stranger Things have also become popular choices for Halloween. With this choice, you can either go solo and rock an Eleven costume or turn it into a group costume by adding friends who will be Mike, Dustin, and Lucas. No matter which character you end up choosing, the key pieces for each are really simple, making it a perfect option for those of you who want to wear a costume to school but still keep it tame. For Eleven, all you'll need is a pink dress with a Peter Pan collar, an oversized dark blue jacket, tube socks, and a blonde wig if your hair isn't already blonde to begin with. Finish the look with a box of Eggos and some blood in your nose. Check out Tess Christine's tutorial to learn how to achieve the other costumes here. Another fun idea Tess mentions in her tutorial is to go as the house from the show. This idea is super easy to pull together at the last minute since you most likely have the items already in your closet. All you'll need is a light color button down shirt and some Christmas lights. A tip for this costume: find battery powered lights so you can get the full effect of the costume without having to be plugged into a wall outlet all night!
SNAPCHAT FILTERS
Admit it, you're kind of obsessed with the filters on snapchat and sometimes wish that they were real because of how good they make you look. Okay, good, I'm not alone. Well this Halloween, you can pull off the same look with some inexpensive hair accessories and some makeup. Whether you're more of a deer filter person or a golden butterfly filter person, both are easy and simple to achieve. Twins Niki and Gabi share the step-by-step tutorials for some of your favorites in their tutorial here. Want to go with some of the lesser used filters? Grace Helbig shares her hilarious take on those filters here.
CLASSICS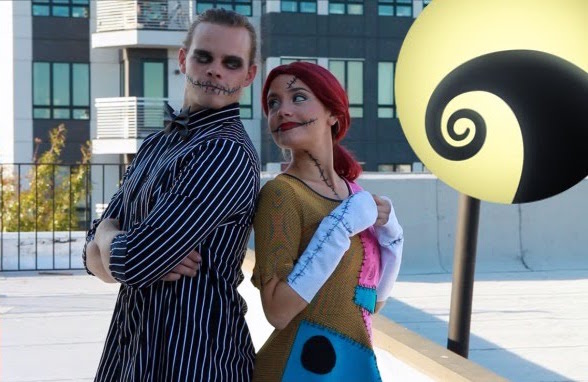 When fall rolls around and you want to get into the Halloween spirit, there's nothing better than watching some of your favorite Halloween classics. As someone who's not into horror movies, I stick with any of the Halloweentown movies, Hocus Pocus, or A Nightmare Before Christmas. Last year, Tess Christine shared three easy DIY costume ideas that can help you channel your favorite characters whether you're going solo, as a couple, or as a group. Starting with Hocus Pocus, become the wicked Sanderson Sisters with items you already have in your closet. For these costumes, the color schemes and wigs make these costumes most recognizable. Winifred's look consists of a blue dress with a corset and a dark green cape, Mary's look consists of a vintage print skirt with dark oranges and maroons, and Sarah's look consists of pinks and purples with lace detailing. Next up is A Nightmare Before Christmas. Tess shows you how you can DIY a simple mustard colored dress to match Sally's stitched look. Make the costume couples-themed by adding a Jack, dressed in black and white stripes and an oversized bow tie. Lastly is the Wednesday Addams. This costume can be easily put together with a black long sleeve dress with a Peter Pan collar and some long braids.
DISNEY
It wouldn't be a costume post written by me if I didn't find a way to include Disney characters. As much as I wish I could spend the night dressed as Cinderella, complete with glass slippers and all, I just don't have the budget to get Cindy's ball gown look. Luckily, there are some other alternatives for those of us either on a budget or finding ourselves spending the day at school since Halloween is on a Monday this year. Let me introduce you to the concept of Disneybound. Founded by Leslie Kay, Disneybounding is the process of finding inspiration from Disney characters and pulling together pieces that you can already own to match their themes. For example, a Mickey Mouse disneybound can be achieved by wearing a black top, red bottoms, and yellow shoes. Whether you find inspiration from the classic characters like Mickey or the princesses, these outfits are simple while still showing exactly which character you're styled after. Also, be sure to check out the Halloween section of the site for some rule breakers that aren't Disney characters, but just as fun to create!
PETS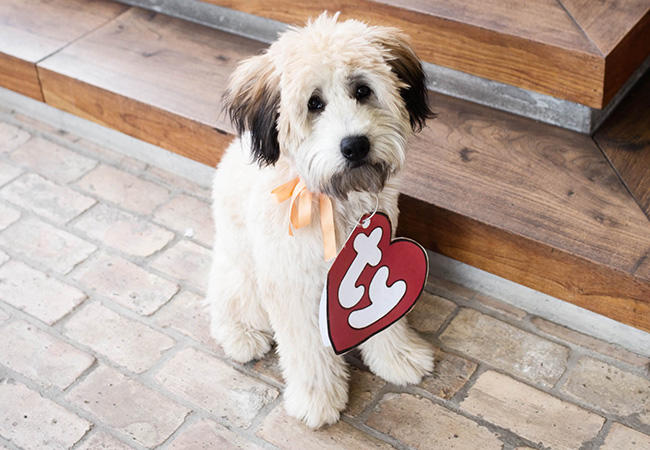 We can't forget out furry friends when it comes time for choosing costumes. Although I'm pretty sure my dog would not let me dress him up without putting up a fight, some of you may have an easier time dressing up your pets. One of the simplest costumes for your pet is a TY Beanie Baby, complete with their own tag. All you'll need is some red card stock paper cut into a heart shape, a cute description on the inside, and some ribbon to attach it to your pet. If you want to match your pet, create your own tag and rock an animal onesie to complete your look. Another idea that works for any of your four-legged friends is the chia pet costume. For this DIY costume, you'll need a baby sized onesie, some orange felt, and some fake grass. You can find out how to put the costume together with Brit + Co's tutorial here. Lastly, turn your pet into your favorite piece of sushi with this DIY sushi costume. This costume can be put together using green, orange, white, and black felt along with some stuffing for the fish portion of the costume.